Book #52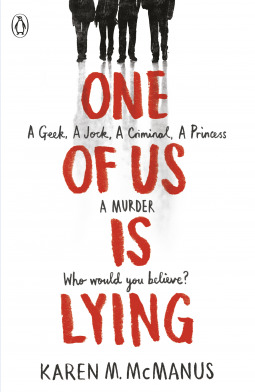 One of Us Is Lying by Karen M. McManus






Yale hopeful Bronwyn has never publicly broken a rule.

Sports star Cooper only knows what he's doing in the baseball diamond.

Bad body Nate is one misstep away from a life of crime.

Prom queen Addy is holding together the cracks in her perfect life.

And outsider Simon, creator of the notorious gossip app at Bayview High, won't ever talk about any of them again.

He dies 24 hours before he could post their deepest secrets online. Investigators conclude it's no accident. All of them are suspects.

Everyone has secrets, right?

What really matters is how far you'll go to protect them.
This is a stunning reinforcement of my opinion that young adult fiction is for everyone.
McManus's range of characters was a big hit for me here. Painted on the cover as stereotypes - the geek, the jock, the criminal, the princess - they were so diverse, so complicated, so not stereotypical at all, and so dredged in teenage angst, that I was gripped from the beginning. Each of them having that Breakfast Club vibe in the modern time was only a bigger hit for me. Add in the murder and we've got ourselves a party.
Each of the accused give us their first point narrative in alternating chapters. This allows us to get under the skin of all of them, find out what their motivations could be to commit the crime, and understand everything else going on in their lives. Even the sub-characters were perfectly rounded - I have a particular love for the badass we call Maeve. Relationships, family issues, and ill health were all part of their struggles, and McManus paints them all in such a way that we can't believe any of them had anything to do with it. How could they?
An author's skill in these types of novels is to leave ambiguous clues for the reader to guess what's happened before the big reveal. If you have the intellect (or, if you're like me and have read so much Sherlock Holmes you should probably consider joining the police), you'll be able to work this one out pretty quickly. McManus peppers little hints throughout the pages, which can either lead the reader to the secret, or make the plot even more tantalising. Everyone wins here.
It's difficult to say much more without descending into spoiler-realm, but I will say this: if you think young adult novels aren't worth your time, you are missing out immeasurably. One of Us Is Lying is the most gripping, enjoyable, addictive and plain readable novel I've had the pleasure to encounter in a long time.