Book #10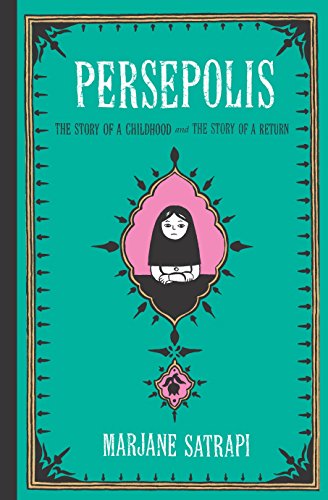 Persepolis by Marjane Satrapi
Wise, funny, and heartbreaking,

Persepolis

is Marjane Satrapi's memoir of growing up in Iran during the Islamic Revolution. In powerful black-and-white comic strip images, Satrapi tells the story of her life in Tehran from ages six to fourteen, years that saw the overthrow of the Shah's regime, the triumph of the Islamic Revolution, and the devastating effects of war with Iraq. The intelligent and outspoken only child of committed Marxists and the great-granddaughter of one of Iran's last emperors, Marjane bears witness to a childhood uniquely entwined with the history of her country.
I jumped into this having only a shred of knowledge on Iran and the revolution. I thought my general political ignorance would leave me out of sorts here, confused and humiliated. It wasn't so; Satrapi has painted an excellent depiction of the regime, giving us some political frames of reference, but focusing mainly on what was important - the people affected.
Growing up as the regime was taking hold, Satrapi witnessed and experienced a number of things you'd never wish on a young girl. We see how these events shape her and her relationships with others, her propensity for rebellion never wavering. She has truly created a masterpiece in black and white, showing fear and joy juxtaposed within her panels.
She begins as an easily influenced child, and we see her grow into a well-informed and knowledgable woman, self-aware and assured, completely secure in her aspirations and desires. The journey we take with her to get there is something I can't put into words; really, I am too much of a simpleton to even attempt it.
Satrapi makes sure to reinforce that her family was far from poverty stricken, and were quite wealthy in comparison to others at the time. The horrors she experienced must be somewhat diluted in contrast to those of her poorer neighbours, and she's beautiful enough to make this clear, a constant shadow looming behind her pictures and words.
I've taken something quite stark and humbling away from this, and that is that I am very privileged never to have seen war. I've seen it on television, from afar, from my comfortable Western home where no one wants to bomb us, and no one wants to arrest me for having a few wisps of hair showing. Satrapi has shown me the true face of war, and yet I can still only imagine. It's not quite so much a feeling of being lucky, as a feeling of being in an incredibly revered position in the world.
A wonderfully raw memoir which I can't quite put into words, only urge others to read.