Book #08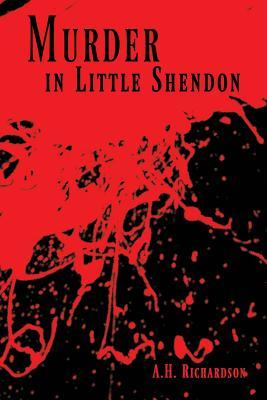 Murder in Little Shendon by A.H. Richardson



Picture, if you will, a picturesque village called Little Shendon, suddenly caught up in dealing with a murder of one of its citizens - not a particularly well-liked one at that. Which makes it all the more intriguing because the list of suspects becomes very long. This tantalizing tale unfolds with delightful twists and turns to find out whodunit to Mr. Bartholomew Fynche, the murdered shopkeeper. Fear grips the community as the investigation slowly progresses. Everyone is interviewed; everyone is suspect.
This is a charming, endearing, and classic whodunnit murder mystery. Set in a quaint English village, a local owner of a second-hand shop is bopped over the head in the first chapter. Enter the stiff upper lip investigators who quickly whittle the list of subjects down to pretty much everyone in the village.
As we're introduced to each character, it becomes clear that each of them held some sort of grudge against the victim. It's impossible to discern at first glance which of them it could possibly be, and it really takes someone with their wits about them to work it out before the finale. You'll be pleased to know your faithful narrator actually did have the acumen to solve this one ahead of time.
Although each of the characters were well-defined, and beautifully typical of this little post-war community, I found it difficult to keep track of their grievances against the deceased. Most of the reasons were financial, and with so many in the frame it became quite a task to remember how they had been wronged.
Richardson skilfully uses alternating points of view in order to hone our detective skills and create a bit of tension. There are many secrets, many unknown relationships, and a good few clues and red herrings littered throughout the pages that you truly feel empowered to make the call.
I found this to be lovely quick read, not too mentally jarring, and the setting was gorgeously depicted. Should this become a series, I would be more than interested in reading the successors.