Book #16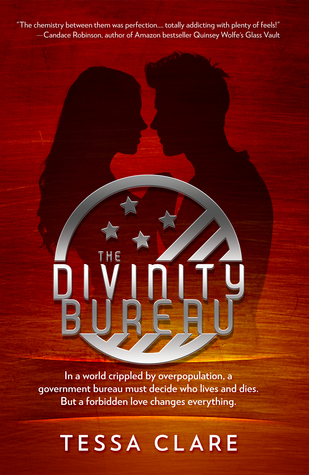 The Divinity Bureau by Tessa Clare
A stunning debut about a forbidden romance between a young activist and a government employee working for a corrupt bureau that controls the population by deciding who lives and who dies.

Roman Irvine is a disgruntled IT Technician for the Divinity Bureau, a government agency that uses random selection to decide who lives and who dies. In a world where overpopulation has led to pollution, a crippled economy, and a world in crisis, he has accepted the bureau's activities as a necessity. That is until he meets April McIntyre.

April has every reason to be suspicious of Roman. He works for the Divinity Bureau, which sent her father to an early grave. However, he is also sweet and loyal, and unbeknownst to her, he saved her life. As Roman and April fall deeper in love, the deeper they are thrust into the politics of deciding who lives and who dies. Someone wants April dead. And the bureau's process of random selection may not be so random after all.
I live for dystopian novels tinged with corruption, and was delighted when Clare asked me to read and review this. The world has discovered how to achieve immortality, and this has a crippling effect on the government's ability to provide for its citizens. To combat the problem, the government runs a deadly ballot each quarter to determine which of its people should present themselves for lethal injection. If you think this sounds absolutely mental, you're right.
Clare uses a dual narrative technique to allow us a fully rounded view of goings on. Roman is an IT technician for the bureau, with unlimited access to the names on the list, and the ability to remove these, despite this being a criminal act. April is a nineteen year old girl whose name appears on the list unexpectedly, as she's outwith the criteria for selection. Roman notices her name on the list, which sets in motion a whirlwind of intrigue, corruption, and activism, resulting in an utterly breathtaking finale. I am desperately hoping for a sequel.
The skill Clare has here is more than apparent. She masterfully explains the world she has built, how it has come to be, and the reasons for the widespread acceptance of what is, quite frankly, mass murder. She scrapes and scores her way into each of the characters backstories and motivations, carving out an engaging plot peppered with tension, passion, and futuristic machines. I would probably consider putting myself into a death ballot if I could only own a robot which would make me scrambled eggs and bacon.
My only criticism here would be that although the first and final thirds of the novel were completely devoted to either explaining the dystopian world, plunging us into an unknown arena, or exploring the corruption evident within the government, the middle third focused on Roman and April's blossoming relationship. It's a personal taste thing, but I much prefer to read of anti-utopia than the paradise of romance.
A wonderful concept, and executed brilliantly. It's clear Clare has a colourful mind, and I thank myself lucky not only that she's able to articulate her brilliance, but also that I had the opportunity to experience it - thank you.