Book #24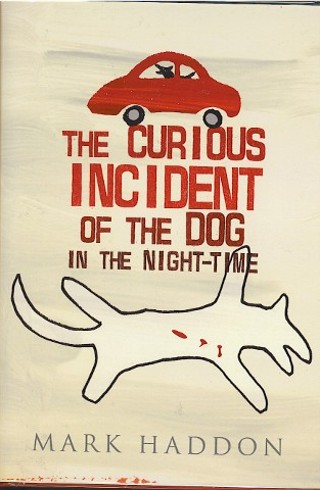 The Curious Incident of the Dog in the Night-Time by Mark Haddon
Christopher John Francis Boone knows all the countries of the world and their capitals and every prime number up to 7,057. He relates well to animals but has no understanding of human emotions. He cannot stand to be touched. And he detests the color yellow.




Although gifted with a superbly logical brain, for fifteen-year-old Christopher everyday interactions and admonishments have little meaning. He lives on patterns, rules, and a diagram kept in his pocket. Then one day, a neighbor's dog, Wellington, is killed and his carefully constructive universe is threatened. Christopher sets out to solve the murder in the style of his favourite (logical) detective, Sherlock Holmes.
I last read this novel around eleven years ago, and have been prompted to pick it up again as my friend bought tickets for us to see the stage show in a few weeks. I remember enjoying the book so much that I never returned it to the school library, but after reading it again with a more mature mind (ha!) I wonder how much I truly understood, and whether I enjoyed it in the same ways as I did this time.
Christopher Boone is a mentally challenged teenager who discovers his neighbour's dog murdered. A traumatic experience for anyone, but Haddon shows us how this experience is processed through Christopher's highly logical, yet dysfunctional, mind by writing the story using first-person narrative. As Christopher plays detective in order to find out the identity of Wellington's murder, not only does he find the murderer, he also uncovers some heartbreaking secrets a bit closer to home.
I think my seventeen year old self probably loved Christopher as a character, and I know she'd like his quirkiness, and his constant refusal to cooperate. He's endearing, and it's lovely to understand what's going through his mind. The contrast to this, however, is seeing how his behaviour affects those around him, and how this contributes to the breakdown of both of his parents, and ultimately their marriage. Although Christopher is highly analytical, and observant of the smaller things in life some of us wouldn't register, he lacks a real understanding of other peoples' emotions. How one person's mental health can contribute to another's is something I don't think is widely recognised, and it's an important message for an author to land.
Younger JK would also have loved the book's unconventional structure. The chapters are numbered using prime numbers as Christopher prefers these. We're given an abundance of diagrams, maps, graphs, and maths problems to explain his coping mechanisms. The simple, yet detailed, prose makes the book easy to read, but in a rapid and raw sort of way, which reflects our narrator's condition.
It's interesting to note that Haddon is a child development psychologist. I'm not as clued up on Asberger's and/or autism (Christopher's condition is never named) as I should be, so it's reassuring the book is written from a perspective of knowledge.
I read the majority of the book in one sitting, and have come away with my head truly fucked. I have begun to process life the way Christopher would (only a little bit, with not as much mathematics), and it hurts. Haddon's writing allowed Christopher's panic towards the end of the story to seep into my skin, and I've found myself still feeling stressed and panicked long after the last page. I know this will last for a short while, but to experience it even slightly is disturbing, enlightening, and heartbreaking all at once.
A very poignant look into the life of an interesting young man, but also very thought-provoking. It's definitely one we should all read at some point. I'm looking forward to the stage show!