Book #55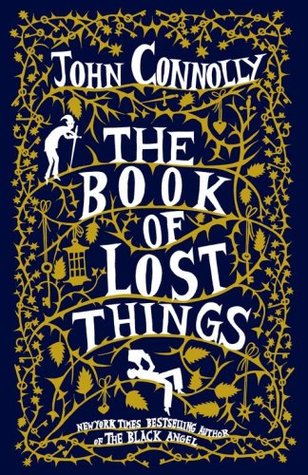 The Book of Lost Things by John Connolly



High in his attic bedroom, twelve-year-old David mourns the death of his mother, with only the books on his shelf for company. But those books have begun to whisper to him in the darkness. Angry and alone, he takes refuge in his imagination and soon finds that reality and fantasy have begun to meld. While his family falls apart around him, David is violently propelled into a world that is a strange reflection of his own -- populated by heroes and monsters and ruled by a faded king who keeps his secrets in a mysterious book,

The Book of Lost Things

.
It's wonderful to read a book a second time, many years after the first read, and discover that it still evokes the same wonder and awe as it did the first time. Hell, this time it even coaxed a tear from my cold, dry eyes.
Connolly begins by immersing us into David's life during WWII. He loses his mother, his father finds a new wife, David is given a half-brother. All of these factors contribute to an onset of anger, bitterness, jealousy, and grief. It's so very real, this stark reality, that we're not prepared for Connolly to begin trickling in some fantasy, and some serious mind bending events.
This is every fairytale you've ever heard come to life and twisted. It's every monster you've ever dreamed of in front of you, ready to attack. David finds himself in a world of folklore and nightmares, and so begins his journey into gratitude, acceptance, and adulthood; and his awakening is magnificent.
Connolly's writing is gorgeous and wonderfully paced. He slowly dips us into this strange land of phenomenon, introduces us to the wonderfully developed characters who are oddly real despite being plucked from fairy tales and torment. The band of communist dwarves, hellbent on teaching lessons to anyone who dares to oppress them, were a particular favourite.
This isn't a kid's book. I'd be tempted to suggest it isn't even young adult. It's dark as hell, with some really cruel plot movements and terrifying moments. We visit some themes which are truly heart-wrenching, and although I don't want to talk about Roland for the sake of spoilers, the person he was and the fate he encountered was the saddest part of all.
Instead, my feelings on this is that it's a lesson in humanity. Things will happen to make us bitter, to make us jealous, to tempt us to throw others into harm's way in order to save ourselves. Connolly teaches us here to embrace understanding, and that it's what we do with those feelings that matters most.
The fact that I cried at the end of this novel speaks volumes. It's so so powerful and gorgeous.