Book #12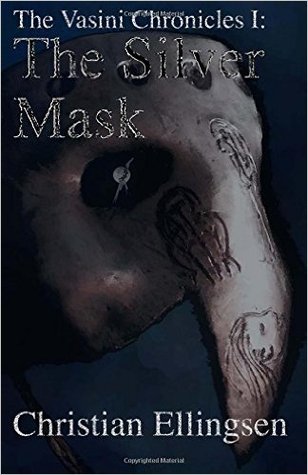 The Silver Mask by Christian Ellingsen






The gods and goddesses are dead, killed two hundred years ago.

With their destruction the moon split apart, the sun dwindled and the land was devastated. Civilisation has re-emerged from the carnage, but twisted creatures still prowl the savage Wildlands between the city-states.

In the skies above the city of Vasini, a falling star, a fragment of the dead moon goddess Serindra, heads to earth. In the Palace district, Dame Vittoria Emerson, darling of the city, has been found dead, lying amongst her own vomit.

As Captain Marcus Fox of the Inspectorate hunts the killer, Dr. Elizabeth Reid searches for the remnants of Serindra determined to make sure the poisonous quicksilver it contains is not used. With Vittoria's death threatening to draw the city's political elite into a war of assassins, Fox and Reid must rush to expose the secrets that lie within Vasini before they tear the city-state apart.
What an utter marvel this is; I'm still in awe.
I've read a lot of fantasy recently, a lot of it being through authors requesting reviews as Ellingsen has done here. The Silver Mask is utterly unique in its charm; not many fantasy novels feature murder mysteries alongside falling stars and terrifying hybrid creatures, yet here we are. There is something in this fantasy which doesn't feel fantasy at all - it feels real, and this was Ellingsen's triumph.
His crafting of Vasini is stellar. Their political factions, their rebels, their elite, their peasants - all were given to us in a beautifully believable box, and I loved learning about this society. Ellingsen peppers the pages with letters, newspaper articles, and other documents to help us learn of Vasini's history, and to help us understand the motivations of his characters. This felt very much like a 'show don't tell' approach, which I'm always irrevocably on board with.
My only complaint here is in relation to these documents. I was sent a digital copy, and most of the letters and articles are maddeningly difficult to read in this format, purely due to size. It would be helpful if they were enlarged slightly; this would have stopped the stares in public as I sat with my nose inches from my Kindle, reading the words aloud. Although there are worse sights on Glaswegian public transport; I have seen them personally.
The plot is fast moving, engaging, and completely addictive. Ellingsen favours short, snappy, sectioned off chapters, flitting through locations and perspectives to give us a rounded view of what we're dealing with. He organically brings characters together, raising tension, and making the story one which is absolutely impossible to tear yourself away from.
The characters were gorgeous, raw, and magnificently flawed, yet slightly lacking in backstory. I'm torn with this thought as I'm unsure whether in-depth explorations of their pasts would have added to the plot, or have slowed it down and affected the deep engagement I had in the storyline. It's also worthwhile remembering this is the first of a series, so perhaps deep dives into the characters' past lives are still to come.
Again, a marvel. I am so pleased to have been asked to read this, and I am very much looking forward to reading more about Vasini.