Book #47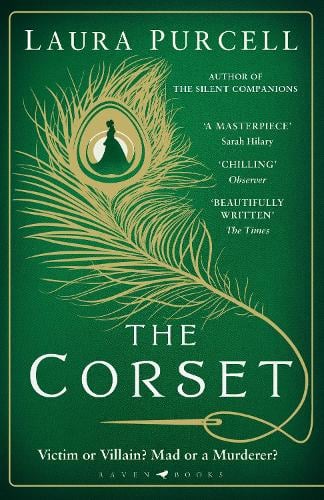 The Corset by Laura Purcell
Dorothea and Ruth. Prison visitor and prisoner. Powerful and powerless. Dorothea Truelove is young, wealthy and beautiful. Ruth Butterham is young, poor and awaiting trial for murder.




When Dorothea's charitable work leads her to Oakgate Prison, she is delighted with the chance to explore her fascination with phrenology and test her hypothesis that the shape of a person's skull can cast a light on their darkest crimes. But when she meets teenage seamstress Ruth, she is faced with another theory: that it is possible to kill with a needle and thread. For Ruth attributes her crimes to a supernatural power inherent in her stitches.

The story Ruth has to tell of her deadly creations – of bitterness and betrayal, of death and dresses – will shake Dorothea's belief in rationality and the power of redemption.

Can Ruth be trusted? Is she mad, or a murderer?
This story has overwhelmed and enthralled me so much that I'm struggle to rattle out words which will in any way do it justice.
Purcell writes of two women from very separate social classes - Ruth, imprisoned for murder awaiting trial, and Dorothea, an heiress with a penchant for phrenology and criminology. Convinced she is being charitable, Dorothea visits Ruth in prison and learns her story. The contrast in them both is exquisite, but no more so than the stunning comparisons each of their lives hold. Purcell writes them distinctly and expertly using multiple voice, both equal parts victim and heroine. I loved both of them deeply.
The prose here is dark and utterly enchanting. The Victorian era is a grim one, and Purcell doesn't shy away from showing us its poverty and flaws alongside its charms. Her settings were gloriously descriptive; one moment a blooming botanical garden with Dorothea, the next a squalid, lice-ridden doss house with Ruth. The juxtaposition and contrast was breathtaking.
Purcell had me dangling from her hook completely. The plot is rapid in its movement, and throws a thousand situations at us like arrows. The multiple voice works well in creating tension, and every single character has their own flaws and nuances. It was truly wonderful.
There, I knew it. My words above don't quite manage to convey the true pleasure I felt in reading this novel. Although bleak and heartbreaking, it's utterly engaging, captivating, and original. This will be one I earnestly press into the hands of friends, urging them to read it, whilst I go off in search of more of Purcell's work.
"But then I have noted that murderous thoughts seldom trouble the pretty and the fashionable."